We offer working dog pups, started and trained working dogs, and performance horses for sale.
We get FAR more demand for our working dogs and horses than we can supply!
The only way to keep up to date with what is for sale, is to join our email list.
CLICK HERE for more information..
Horses for Sale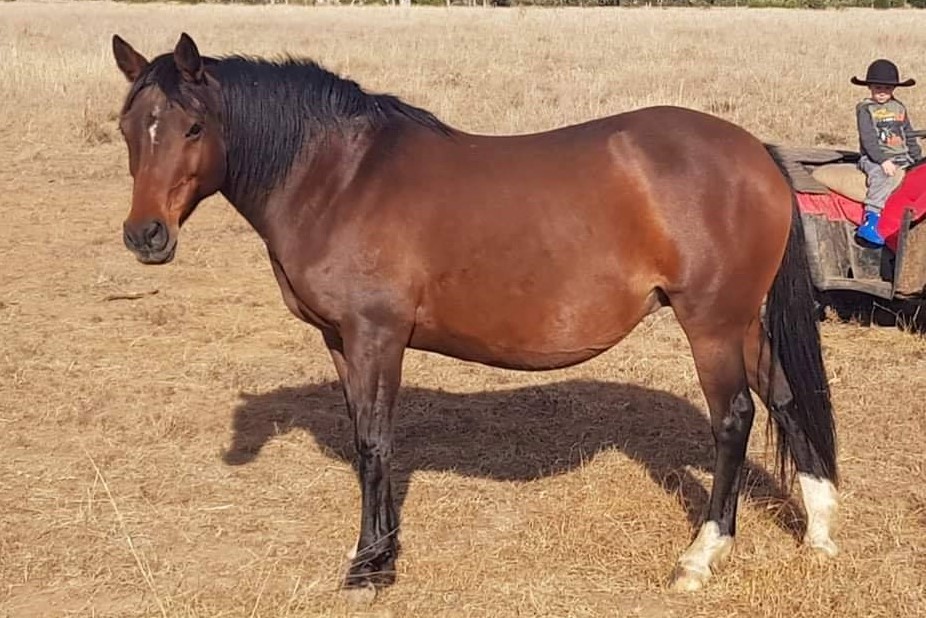 Reg No: ASH 175686  /  AQHA FM-25424
Sex: Mare
DOB: 10/12/2004
Colour: Bay
Reg Status: Dual Registered ASH & AQHA
Bred By:  A McLennan Dehnert & P Dehnert
I had always wanted to incorporate Edenhope Sam lines into my breeding program for polocrosse and drafting purposes.. "Star" combines Edenhope Sam, Star Black Minstril and goes back to Nabinabah The Gun through Panther. It is extremely hard to find direct Sam sires these days, and even harder to find ones with a bottom side that is that strong.  Star also goes back to Yarrahappini Yquem, sire of my childhood favourite polocrosse mare (and arguably the best ladies polocrosse mare in the state, possibly country, at one period), Paula Dean's, Yarrahappini Veuve.
Edenhope Sam was one of the greatest polocrosse sires of his era, producing hundreds of good polocrosse horses, many being National prize winners. Even to date he remains one of the greats alongside many Star Black Minstril sons.  His drafting record, may not be that big but is impressive, 20 wins or places from 20 starts, scores up to 92 and seven cut out wins. He has also bred successful drafters, in particular, Crown Isla Tiger Lily who won the 2006 Warwick Gold Cup.
Whilst she wasn't campaigned herself Star's siblings are draft, show and challenge winners. She was a proven producer when we bought her and has produced outstanding types for us.  Her older progeny are competing successfully in ASH shows, drafts, challenges and will soon hit the polocrosse field.
Our foals out of Star so far;
2017 – colt by ONE MOORE DADDY, Craiglea Sovereign (sold by 3mths), broken in well and showing promising in a variety of fields.
2018 – colt by BREKS DUCK YEAH, Craiglea Confessor (sold by 3wks), purchased as a stud replacement colt.
2019 – filly by BREKS DUCK YEAH, Craiglea Virtue (full sibling to Confessor) retained at this stage.
2020 - colt by DOOLANPARTNERSHIP ESPRESSO, Craiglea Revelation (sold by 1wk)