Welcome to Craiglea Working Dogs! We breed and train quality Border Collie working dogs for work and competition. We offer working dog pups, started and trained working dogs for sale, Border Collie stud dogs, and working dog training schools and lessons..
The properly trained working dog is indispensable. No machine or substitute could ever replace him. (James L. Moore, 1930)
We use our dogs in our work every day!
We manage a commercial beef cattle operation, running approximately 2,000 head across several grazing properties. We run Hereford and Angus breeder cattle, producing 'black baldy' progeny, growing them out to heavy feeder weight. We also trade cattle according to the seasons, and run a small flock of Dorper and Damara sheep.
We cell graze across the whole operation, which means we are moving cattle often. This can be as often as twice a day when the feed is really growing! We run maximum numbers of cattle in the minimum numbers of mobs possible. This means mobs of up to 500 breeder cows, or 1,000 head of dry cattle.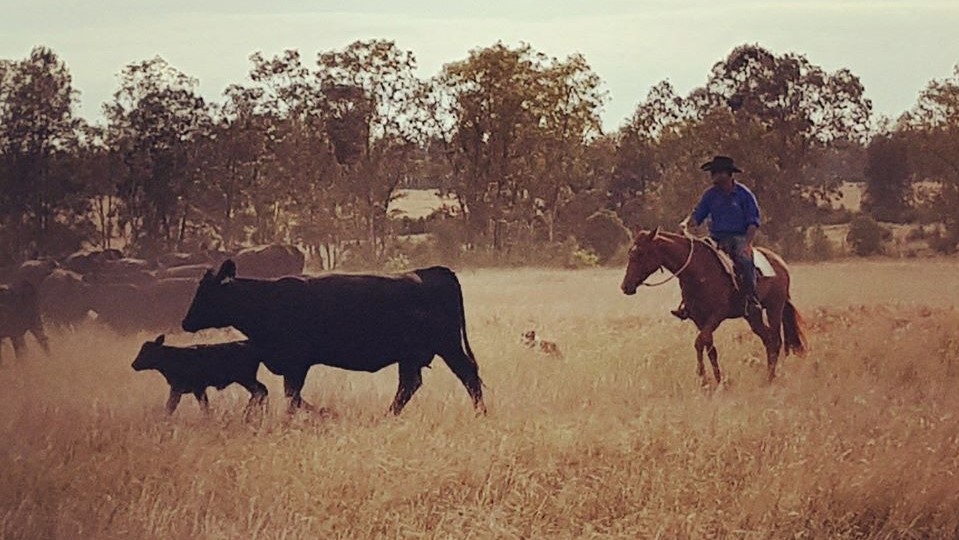 We are often moving cattle on our own, with just the help of the dogs. Good working dogs are by far, the most efficient way to move livestock. They allow us to get this work done without the help of extra staff, saving the business money, and resulting in quieter stock, that fatten quicker and are easier to handle. On top of the economic benefits of using dogs, the most enjoyable and rewarding part of my job is working cattle on horseback with a couple of dogs. I can't imagine running a livestock business without our dogs!
Being a cattle breeding operation our dogs have a variety of work which includes handling cows and calves. We also use our dogs to handle our sheep. This includes paddock and yard work. This is great work for the dogs, completely different to working cattle, adding to their versatility.
Our dogs are not perfect, but they are reliable and practical, and they get the job done. They play a very valuable part in the efficiency of our cattle operation. We are constantly trying to improve the quality of our dogs, by setting a very high standard in breeding and training, backed up by many miles of real work! We have spent countless hours researching bloodlines and training methods, and have spent a lot of time, money and kilometres putting these into practice.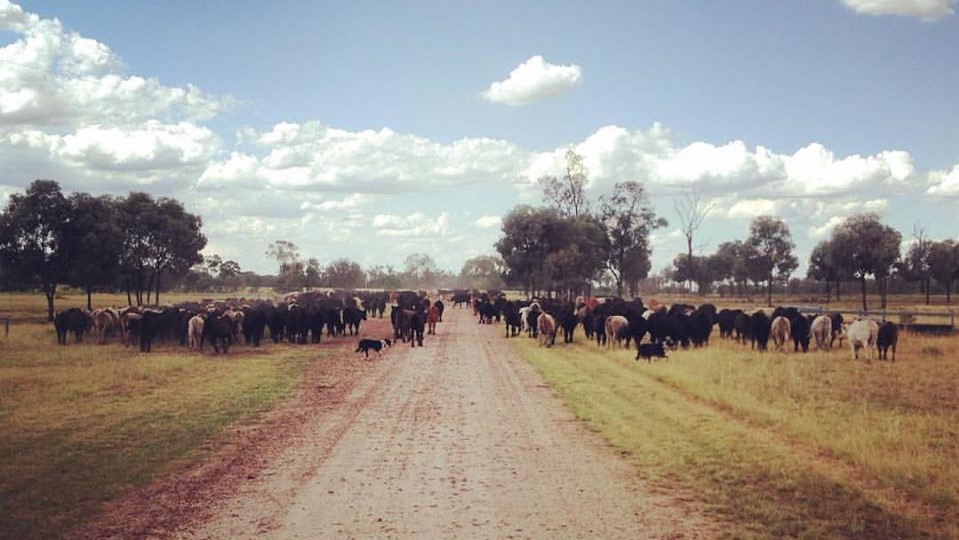 The type of work we use our dogs for include:
Mustering and paddock work – cows and calves, dry cattle, sheep, and the occasional goat job.
Weaner education
Yard work – penning up cattle, sheep and goats.
Dog trialling – cattle and sheep dog trialling.
The majority of the working dogs we sell are six week old pups, and started dogs around 6-12 months of age. We sell very few fully trained dogs.
Working dog pups start at $1,100 inc GST
Prices for started or trained dogs increase from there, depending on age, ability and their level of training.
All of our pups and dogs for sale are wormed, vaccinated and healthy. We offer as much phone and email advice as you need to get the most out of your dog.
CLICK HERE to see what we have for sale..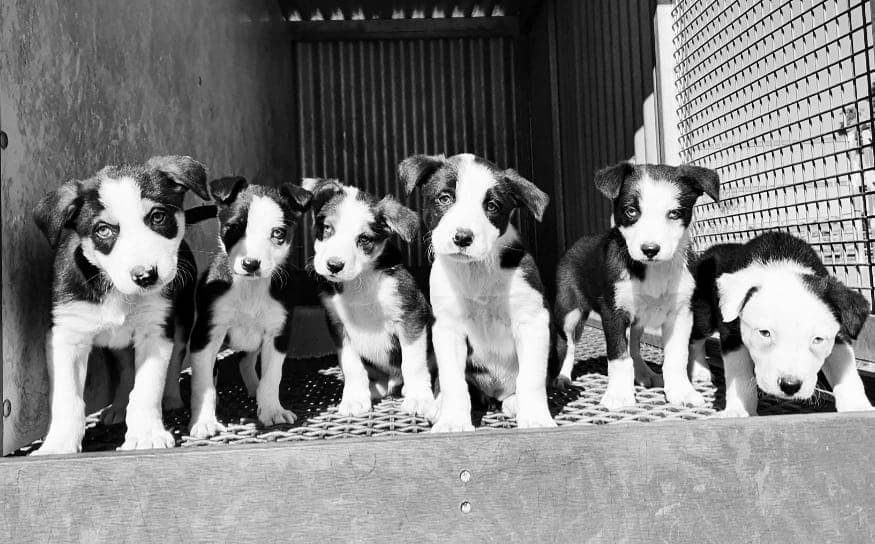 CLICK HERE to join our email list.. We have far more demand than supply for our dogs, and this is the only way to keep updated what we have for sale.
A COUPLE OF THINGS TO NOTE ABOUT OUR DOGS..
Our dogs are genuine working dogs, that we use every day. Our dogs are not a hobby, they earn their biscuits.
Our dogs are not perfect (I would like to see a dog that is!) I am my own biggest critic, and will happily point out the strengths and weaknesses in any of my dogs.
We only breed a handful of litters a year, always with a result in mind. We do not breed to fill orders, and we always keep several pups from every litter.
We never have, and never will breed from a dog or bitch that is not a useful, practical stock dog.
We don't own more adult dogs than we need. We don't own 'brood bitches' that do nothing but produce pups. Our bitches go to work every day.
Our dogs are not trial dogs, they are work dogs. We love trialling, and are proud of our success. But our priority when making breeding decisions is and always will be work!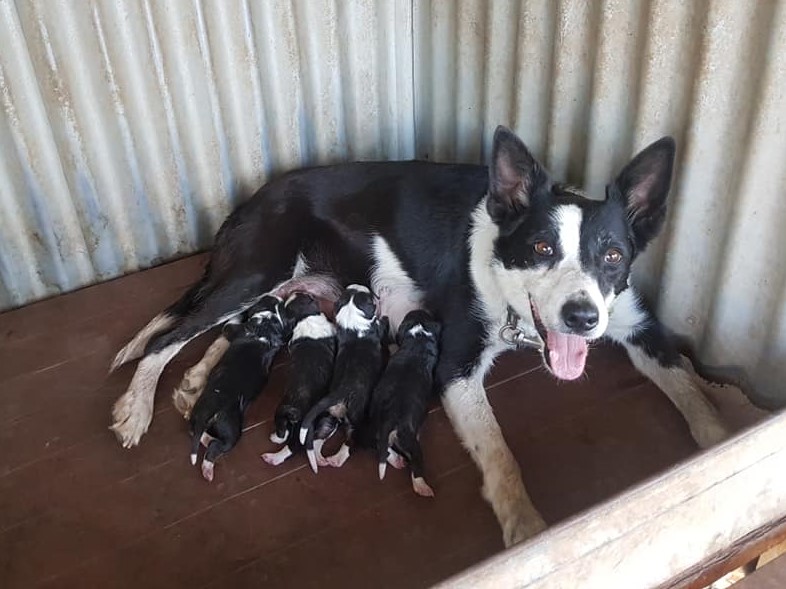 Our goal is to breed practical, tough, intelligent working dogs, with an emphasis on versatility. Our ideal dog is strong enough to work all types of cattle, including cows and calves, gentle enough to work sheep with baby lambs, and have the temperament and trainability to trial cattle and sheep. We try and select for a leggy, short haired, practical type of dog with a big heart, capable of long days at work.
We look for pups that show interest in stock from a young age. I choose pups with heading instinct, that naturally want to hold their stock together, and will balance to the handler with little help or instruction. As dogs progress, they should have enough independence to be able to do practical work for periods of time with little or no command. 
Temperament is super important to me. I need a dog that is likeable and easy to train. All the natural ability in the world is no good if the dog doesn't want to work in partnership with its handler. A dog that is capable of working without command, but is willing to do exactly what it's asked when necessary, is the ideal dog for me.
We run a cattle operation primarily, and the majority of our work is cattle work. Our dogs must bite cattle. I like a dog that can control stock sensibly, biting only when necessary. We do not keep, or breed from dogs that won't bite cattle.
The dogs that we choose to breed from are proven working dogs. They can work cattle, sheep and goats in a day to day work situation, and ideally, are successful in the trial ring as well.
We have not, and never will breed from a dog or bitch that isn't a proven, practical working dog. We are small scale breeders, very selective in what we breed from. We do not breed litters for the purpose of selling pups. We breed for genetic improvement, keeping several pups from every single litter that we breed.
BLOODLINES AND PEDIGREES..
We have some excellent bloodlines from all over the world. We have spent years collecting the best bloodlines we could find from all over Australia and overseas. Jamie has travelled to the UK, to watch the International Supreme and World Sheep Dog Trials, and visited the homes of some of the best dog handlers in the world. We have imported dogs from the UK in the past, and have frozen semen from many world class sires in our tank.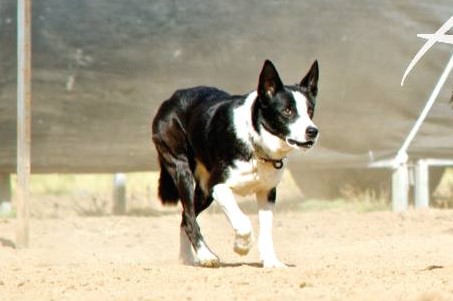 Our foundation sire is Swan Spud. An Australian bred Border Collie, bred by the late Jack and Elaine Swan. I purchased Spud as a nine week old pup in 2006. He wasn't my first dog, but was one of the very early few, and my life was never the same since. Spud won the Australian Working Cattle Dog of the Year in 2011, in our very first year of trialling. Looking back, this says a lot more about Spud's ability than mine! We won the top award again in 2015. Spud was the ultimate all around stock dog. There was nothing he couldn't do on cattle, sheep or goats. He was my main dog right up to the age of ten years old. Almost all the Craiglea dogs in our kennel have one or more crosses of Spud in their pedigree. CLICK HERE to read more about Swan Spud.
After travelling to the UK in 2011 to spectate at the International Supreme in Scotland, and the World Sheepdog Trial in England, it became clear to me that they are at another level of genetics and handling to what we are in Australia. I recognised that the best of the ISDS bloodlines and Spud had plenty to offer each other, and have spend the last decade blending the two together.
I have been very patient and strategic about the blood I have used, and have available to use in the future. There are several ISDS lines I am building a bloodline around, crossed with Spud blood -
James McGee's Seth (Sid) - Out of an Aled Owen's Roy bitch
Aled Owen's Llangwm Cap - Out of an Aled Owen's Roy bitch
Ricky Hutchinson's Sweep - by Wenndale Roy, and sire of Ricky Hutchinson's Jock
Pat Byrne's Moss - by Ricky Hutchinson's Sweep
All these lines have either won the International Supreme, are sired by an International Supreme winner, or have sired an International Supreme winner. More importantly, they are all owned by farmers, and they all go to work. I don't think it is a coincidence that James McGee's Sid and Aled Owen's Cap are both out of Aled Owen's Roy bitches.
Our bloodlines have many trial champions from Australia and the UK, but more importantly, they all come from proven working lines. We aren't interested in trial bloodlines that aren't proven in the paddock as well. We believe that a pedigree is only as good as the dog it represents, and we don't keep poor quality dogs regardless of how 'well bred' they are.
I am a very keen dog trialler. I love trialling, and thoroughly enjoy competing against other stockmen and their dogs. It is a very challenging sport, and it is an excellent way to compare your dogs with others.
I would like to make it very clear that we are breeding working dogs, not trial dogs! I am very passionate about the sport of dog trialling, but I see it purely as a final test for the fully trained working dog, and a way of comparing my dogs to others. Real, practical work is our first priority when breeding! My dogs will never make it to the trial arena if they can't cut it in the paddock first.
In saying this, I do believe that the temperament and trainability required to train a dog to the standard of competitive trialling, is a very important selection trait in my dogs. You soon find out how good your partnership with your dog is, working someone else's stock, around a strange course, in front of a judge, and the general public!